Welcome to the Crossing Jordan Wiki
Crossing Jordan is an American crime/medical drama that ran from 2001 to 2007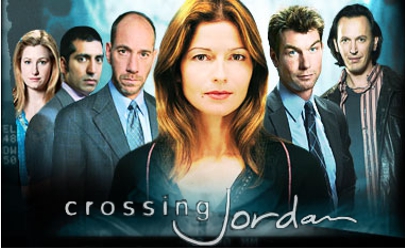 The show revolves around the Boston Medical Examiners Office, Boston Police Department, and the District Attorney's Office. They work together to solve crimes and get justice for the victims in some interesting and unorthodox ways. The show focuses on its constant main character, forensic pathologist Jordan Cavanaugh, as she goes above and beyond the call of duty to solve cases.
The primary settings of
Crossing Jordan,
all situated in Boston, the county seat of Suffolk County, Massachusetts, are the offices of the Suffolk County Medical Examiner, the Boston Police Department, and the Suffolk County District Attorney.</p>
Whenever a person dies in Boston, Massachusetts, that person's body is picked up by the pathologists of the Suffolk County Medical Examiner's Office, also called the morgue. Full autopsies are performed whenever the said person's death was under mysterious circumstances, and often the team finds that this person was murdered. Heading up the ranks of the morgue is Chief Medical Examiner Dr. Garret Macy M.D., who is a respectable man. He serves as the liaison for all conflicts, work-related and not. Fitted snugly under him are his three constant medical examiners, the first of whom is the newly-returned Dr. Jordan Cavanaugh M.D., the "'Crossing' Jordan" of the program's title, who is the daughter of a now-former homicide detective; incapable of limiting herself to her job description, she often puts herself in harm's way in the pursuit of justice. Next up is the focused Dr. Mahesh Vijay M.D., affectionately known as 'Bug' for his work in etymology. Bug often cooperates with the witty, charming, and comedic Nigel Townsend, a British migrant who, though a criminologist and tech-expert of formidable competence, is also a conspiracy nut on the side. Working with them is Lily Lebowski, once the office's "intake girl," who now serves as a grief counselor to survivors of the decedents; she is inherently caring and maternal.
Once the team determines the manner of death to have been a homicide, it calls in the Boston Police Department's Homicide Division, or "murder squad," to which Jordan's father, as stated above, was once assigned. Detectives include the charismatic and friendly detective Woodrow Hoyt, whom the morgue staff knows as Woody. From fresh-faced uniformed cops to seasoned detectives, the force is always effective in investigating crimes and locating murderers.
The Office of the Suffolk County District Attorney, the head of legal affairs, is headed by Renee Walcott, the Suffolk County, Massachusetts, District Attorney. Second to her are such ADAs, or Assistant District Attorneys, as Jeffrey Brandau.
Loading RSS data...