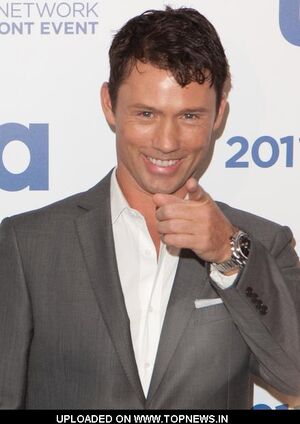 Jeffrey Donovan (born May 11, 1968) is an American television, film and stage actor. He plays the lead Michael Westen on the American cable television series, Burn Notice. Notable starring roles in film include: Hitch, Believe in Me, Changeling, and Come Early Morning. He portrayed Robert F. Kennedy in Clint Eastwood's J. Edgar(2011).
Donovan was born in Amesbury, Massachusetts and raised, along with two brothers, by their mother.[2] Of his childhood, Donovan recalled:
| | | |
| --- | --- | --- |
| " | I grew up really poor. We grew up on welfare – a single mom with three boys. We didn't have anything. Christmas would come around, she'd rewrap gifts she'd given us before. We moved about 10 times in my childhood. When you come home from school and the lights don't go on, you think: We're moving! You can't pay electric bills on welfare. We became very frugal.[2] | " |
At Amesbury High School, he was mentored by teacher Patty Hoyt. She aided him in starting a drama club[3] and then found him a private scholarship, enabling him "to participate in a summer program that helped pave the way for his acting career."[4] He attended Bridgewater State University before transferring to the UM, Amherst, where he graduated with a BA in theatre. He went on to earn his MFA from New York University's Graduate Acting Program at the Tisch School of the Arts.